catholic holyland pilgrimage trip christopher cross
in the news Catholic Pilgrimage Tours and Travels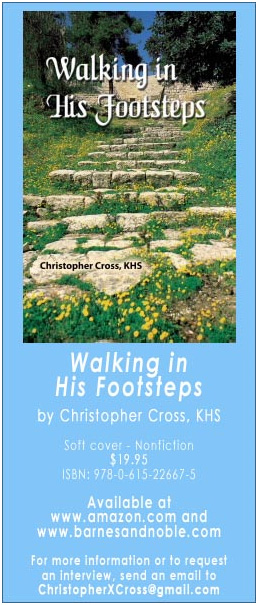 SOFTCOVER RELEASE!
Just in Time for Easter Comes a Book by a Licensed Christian Guide Based on His Fifty-Plus Trips to the Holy Land
Written to help readers further understand scripture, the book also contains drawings of the Last Supper and shows where the Apostles really sat, as opposed to where The Da Vinci Code placed them.
Author Christopher Cross understands the difference between a tour and a pilgrimage. Having led more than fifty trips to the Holy Land as a licensed Christian guide, he realizes that many pilgrims come to Israel with the expectation of experiencing a pilgrimage but instead go home disappointed because they didn't get a chance to truly experience the things that are so important to their faith.
On a tour, he notes, one pays a quick visit and moves on. On a pilgrimage, one "visits these holy places with an attitude of experiencing and reading the scriptures that pertain to these holy sites."
To that end, Walking in His Footsteps lists what Cross feels are the ten best areas to visit while in Israel on a six- to ten-day pilgrimage, complete with their corresponding scriptures and professionally-taken pictures of the holy sites as well as drawings. Because readers can associate pictures with the stories, it is "easier to fully understand and meditate on the holy scriptures."
In addition, the book contains a personal reflection after each scripture that describes what the scripture is really saying to each of us in a very spiritual way.
The result is a pilgrimage within the pages of a book, providing a marvelous opportunity for those who may never have the chance to travel to Israel on a literal pilgrimage to experience one nonetheless.
Walking in His Footsteps is available at www.amazon.com and www.barnesandnoble.com.
For more information or to request an interview, send an email to ChristopherXCross@gmail.com.
Walking in His Footsteps by Christopher Cross, KHS; Nonfiction; Soft cover; $19.95; ISBN: 978-0-615-22667-5